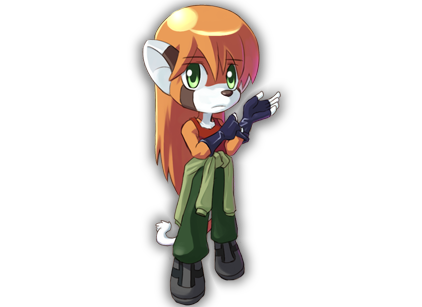 First, I would like to apologize I stop to update my comic of UZI for many reasons ( but I will try to update that today ).
The fact is in the last days I take a big descision to go back to school and I will try to be accepted and pass my exam for go study in 3D animation. Lot of peoples seem to see my in that and I think about that since one year ( yeah, I take my time to take a descision like that ).
So, I work to study, work on my portfolio and stress like hell.
Second, the title of that journal it's because La Gallery ( at Montreal on St-Denis ) propose me to participate to a tribute for Barbara Canepa about Sky Doll, because Barbara will come to Montreal for the Montreal Comic Con. I have to admit it's an honor they come to me for propose me that and I think it's great chance to show the talent of the artists of Quebec, I have the next 2 months for work on that, I don't know what I will show because all of that will depend of my free time, but of course I participate.
You can see the other artists who participate here:
www.lagallery-montreal.com/356…
The good thing too it's Sky Doll are one of my inspiration in my webcomic UZI ( I really like the style in this comic, woah! ), or course with many other thing. But it's really nice to work on something like that ( since I really like fanart too ( I like to make and receive fanart hehe ).
Mmmmmmmmmmg what new except that? Ah Yeah! For french peoples I have made the hard part of the next chapter of my webco', the design, now the real party begin the pages will come more fast and with luck I will begin the next chapter of my webco' when the summer will be over ( because it's never a good time to star a story when everybody are in vacation ).
If someone want, I search a translator ( french-english ) for my comic CAT//DOG.
And for finish, now I want MGS Peace Walker because bah I'm a MGS fan deuh!
And now the random feature:
I ask to

( I know, I know, again.. ) and he give me R and of course I don't take him ( HA-HA TOO-BAD! XD ), so I take a random name in the middle of my list and see

.
I have to admit I realised I start to don't remember everybody who watch me ( but I try to take a look to the deviants of everbody who watch me and visit me ). So I will try to found 3 pic' I like.
Ok I will start with this one, I have to tell you I'm not a fan of Lord of The Ring, ok I read the books lot of time before the movies, I like the movie but I'm not a fan ( perhap my taste, I prefer sci-fi, action and spy movies ).
fav.me/d15dh6z
But this pic' are really good, nice job!
That will sound stupid....
fav.me/d2kxssh
...but I like the trees. XD
fav.me/d2pouyw
I really like the guy with the blade.

So, that's all for now if I don't want to kill your eyes ( and Shakepeare will come for kill me hehe ).
Peace kids and have fun!